Note: This research was first provided to our Premium Members when BZUN was trading at $9.45 on August 12, 2016.  We also have provided an update at the bottom of this post regarding the discovery of certain SEC guidelines that can be correlated to BABA's disclosure of its ownership of BZUN shares. 
Baozun Inc. (Nasdaq:BZUN) is a leading digital and e-commerce service partner in China, helping brands and retailers build e-commerce success. The company provide s end-to-end services, including website design, development and hosting, IT infrastructure, customer service, warehousing and logistics services, as well as digital marketing. We have gone long the stock and made sure to tweet this on August 11, 2106. If you are a premium member and have not put a request in to follow us, please put one in to @GeoPremium.
According to the 20F filed by BZUN on April 8, 2016:
"Our ability to enhance cooperation with marketplaces. We generate the majority of our revenues primarily through product sales on official marketplace stores that we operate on Tmall. Our future growth depends on our ability to enhance cooperation with Tmall and expand working relationships with other major online marketplaces, such as JD.com."
The company generates the majority of its revenue by working with different stores on Tmall, which is the B2C marketplace operated by Alibaba (BABA) with total ttm GMV (Gross Merchandise Volume) close to $181 billion as of March 31, 2016. It appears BZUN fits right in with the business eco-system that Alibaba is creating.
Alibaba's Undisclosed Stake in BZUN
What immediately caught our interest is that in BZUN's 20F, Alibaba is actually already a large shareholder of BZUN, as pointed out in the table below.
As of March 31, 2016, Alibaba Investment Limited ( a company wholly owned by Alibaba Group) holds 26.5 million Class A ordinary shares of BZUN, accounting for 17.8% of the total ordinary shares. Since each ADS represents 3 Class A ordinary shares, Alibaba holds the equivalent of 8.8 million BZUN ADS' s as of March 31, 2016.
We f ind it peculiar that Alibaba did not disclose this equity interest in BZUN i n its 13F on May 13, 2016 for the first quarter of 2016:

We are hoping that Alibaba's involvement forecasts success in the same way it has with other investments. All of the companies that Alibaba did disclose ownership in as of its first quarter 2016 performed relatively well year-to-date in terms of stock price, as shown in the following charts:
Momo Inc. (NMS:MOMO)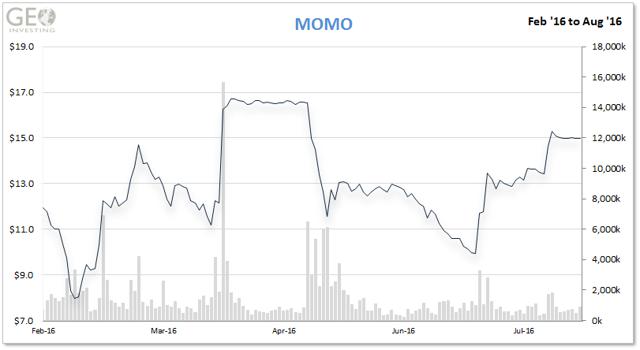 Weibo Corporation (NMS:WB)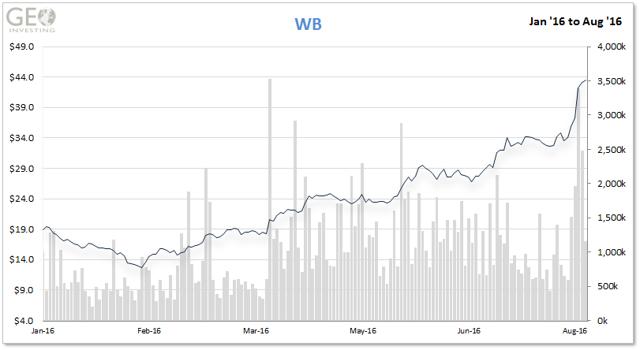 Groupon Inc. (NMS:GRPN)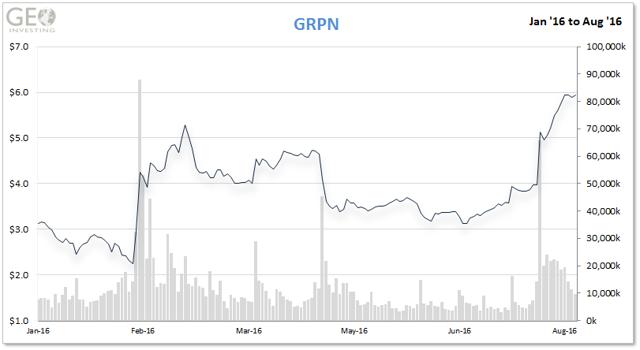 In the absence of Alibaba's disclosure of its interest in BZUN, we believe OUR reference to it should be a potential catalyst for more market participants to begin following the stock.
Quick Peek at BZUN Valuation
The company is currently trading at a P/E of 33.1 based on analyst 2016 EPS estimate sof $0.26, and a P/E of 12.8 on estimated EPS of $0.67 for 2017 as of the 8/10/2016 closing price.
According to the most recent Q2 2016 financial results, the company reported a revenue increase of 35.3% YOY to $105.4 million, and it reported Non-GAAP EPS of $0.02.
BZUN recorded a one-time inventory write-down of RMB 27.7 million (~USD 4.1 million) during that quarter. If this one-time inventory write-down were excluded from the Non-GAAP EPS calculation, non-GAAP EPS would have be en $0.10, as compared to $0.03 in the same period last year. As we mentioned in our August 4, 2016 premium email we think many investors may have not worked this write-down into non-GAAP numbers and we believe it makes BZUN a compelling opportunity to look at further.
We're just getting involved in the BZUN story and past the Alibaba news, we have yet to analyze the remaining business.
We expect that at some point in the near future the China Securities Regulatory Commission (CSRC) will issue definitive guidelines for companies that want to go public via alternative means. Recent regulatory overhang has dampened investor enthusiasm in U.S. listed China-based stocks. Clarity could be a positive for BZUN as it could make it a more appealing takeover candidate given its close relationship with Alibaba and other large companies. For example, the 20-F discloses that Tsubasa Corporation, a company wholly owned by Softbank, owns 13.5% of BZUN shares. This joint ownership by large entities may be cause for speculation of a consortium buyout.
———–
Post Note Update
As we dug further into the story, the following guideline found in the FAQ section of the SEC 13F filing rules may shed some light as to why BABA did not include the ownership of BZUN shares in its 13F filing, although it was disclosed in its 13G filing:
Question 40

Q: Do I include securities of foreign issuers on Form 13F?

A: You report shares of a foreign issuer only if those shares are traded on a United States exchange (e.g., NYSE, AMEX) or are quoted on the NASDAQ National Market System (this excludes "pink sheet" ADRs). As always, you should rely on the Official List of Section 13(f) securities to determine what should and should not be included on your filing.

Shares of securities that trade on non-United States exchanges (e.g., Toronto Stock Exchange, London's FTSE, Tokyo's Nikkei) should not be reported on Form 13F.
It is possible that the shares of BZUN owned by BABA are not traded on the NASDAQ market. Regardless, we are not sure most investors are aware of BABA's ownership in BZUN.